News / Newsletter


Newsletter vom 12. Juni 2018:


► Die Energie der Kraftorte nutzen

► Adonai Melek - Ain Soph - Shekinah: Die Macht der Worte

► UrÄngste transformiern

► Unser neues Datenschutzgesetz
---

Die große Pyramide Ägyptens:
Der Mittelpunkt der 12 Raumzeitkrümmungsgebiete in Konjunktion mit Orion und den Plejaden.



















Die Grosse Pyramide ist jedem bekannt und wahrlich ein Kraftort. Selbst mit all ihren Rätseln kann man behaupten, dass die Grosse Pyramide eine bestimmte Energie für uns hat und dass man sich mit dieser auch verbinden kann. Dafür haben wir diese Musik erschaffen.
Spüren Sie hinein in die noch rätselhafte Energie der Grossen Pyramide und ihrem Zusammenwirken mit den Sternensystemen! Diese enorme Kraft bringt neue Erkenntnisse und Erlebnisse.

Diese 33minütige, mystisch dynamische Musik in der 432 Hertz-Stimmung stellt die Energieform & musikalische Symbolik der großen Pyramide Ägyptens als Mittelpunkt der 12 Raumzeitkrümmungsgebiete in Konjunktion mit Orion und den Plejaden dar.
Tauchen Sie ein in in diese Lichtbruderschaft der höheren, göttlichen Sternensysteme mit uns und der großen Pyramide.
Diese Vereinigung schenkt unglaubliche Lichtkraft und unterstützt die derzeitige Große Transformation.


Die MP3-Musik und Hörprobe finden Sie hier

---
432 Hertz: Orion & die Plejaden


















Auch die Sternbilder mit ihren Planteten sind Kraftorte und
deren Energie kann ebenfalls gespürt und aufgenommen werden. Tauchen Sie ein in die mystischen und von uns weit eintfernten Kraftorte und deren Energie-Klang!

Die 432 Hertz-Musik repräsentiert die hohe Energie von Orion und den Plejaden.

Schon in der Vergangenheit gibt es unzählige Legenden über die Bedeutung der Plejaden und Orion.
Man sagt, dass die Plejaden zum Beispiel die Wiege und der Thron unseres Bewusstseins sind und dass das Adamische Leben dort entstanden sein soll. Ebenso sind viele sehr alte, uns bekannte Bauten nach diesen "Gestirnen" ausgerichtet und gebaut worden. So repräsentieren sie Thron-Regionen, viele Logosmachtbereiche, welche für unser spirituelles Sein wichtig waren, sind und gerade jetzt extrem aktiv werden. Die Plejaden stellen also eine Thron-Region dar, während Orion ein Tor-Zentrum ist.
Orion (Kesil / hebräisch) ist die Zentralkontrolle für alle höheren Evolutionsprogramme, verbunden in den pyramidalen Anordnungen in Ägyptens.

Diese 432 Hertz - Musik-Energien verbinden mit der spirituellen Gegenwart beider wichtigen Zentren im Universum, welche wohl eine direkte Verbindung mit uns und der Erde besitzen.

Die Titel:
1. Die Lichtbruderschaft von Orion und Plejaden 13:50
2. Verbindung zu den Plejaden 14:24
3. Verbindung zu Orion 13:56
4. Die Plejaden: Weg und Thron unseres Bewusstseins 16:12
5. Die Plejaden: das höhere, göttliche Sternensystem 14:50

► Die CD finden Sie hier

► Die MP3-Musik und Hörproben finden Sie hier
---

Spirit of the Highlands

















Die Musik vermittelt die kraftvolle, erhabene Energie der Highlands. Tauchen Sie ein in das dynamische Pulsieren dieses Kraftortes!
Eine ganz außergewöhnliche Komposition, welche die Magie und Kraft dieses Landes vermittelt - lernen Sie hiermit die Vielseitigkeit des Komponisten kennen!


► Eine Hörprobe zu diesem schönen Musikstück finden Sie hier!


► Das Video von Spirit of the Highlands finden Sie hier auf unserem YouTube-Kanal!
---
Aus unserem letzten Newsletter:

Ur-Ängste transformieren



















Mit diesem Musikstück möchten wir eine besondere Weise zur Verfügung stellen, um Ur-Ängste aufzulösen, die tief in jedem Menschen sitzen.
Egal, ob diese Ängste aus vergangenen Inkarnationen stammen, aus traumatischen Erlebnissen, aus der Kindheit oder elementare Kräfte dahinter stehen, diese dynamische Musik mit ihren weichen Pianoklängen, welche mit kraftvollen Streicherklängen wechselt, wird jeden dabei unterstützen, um diese UrÄngste aufzulösen, zu transformieren.

Hören Sie sich diese Musik so oft an, wie Sie individuell möchten und können. Jeder Mensch ist anders und deshalb gibt es diesbezüglich keine allgemeine Regel. Unser Tipp: Sie können diese Musik auch lautlos abspielen und in Wiederholschleife, zum Beispiel nachts. Die Musik wird durch ihre Schwingung wirken und auf Dauer Ängste transformieren, was zudem einen besseren Schlaf ermöglicht.
Ängste können sehr tief sitzen. Deshalb haben Sie Geduld mit sich selbst.
Beim bewussten Anhören (Meditieren) gehen Sie bitte sachte vor. Schließen Sie die Augen und horchen in sich hinein. Lassen Sie sich von der Musik führen und tragen. Die Musik wird Sie zugleich beschützen. Sehen Sie auftauchenden Angst-Gefühlen und Bildern ins Gesicht. Manchmal ist das nötig, um diese zu erkennen und gleichzeitig aufzulösen. Erst, wenn wir kennen, was uns Angst macht, können wir es überwinden. Und genau hierbei unterstützt Musik auf eine Art und Weise, die kaum sonst möglich ist.

Empfehlung:
Zum Beispiel empfehlen wir die Musik Pan, welche ebenfalls elementare Ängste auflösen kann, da Pan eine symbolische Urgestalt ist, die mystische Kräfte besitzt und auf viele Menschen unheimlich wirkt. Doch die Pan-Musik zeigt uns auf, dass die elementaren Kräfte der Erde und Ihrer Wesenheiten positiv ist und genutzt werden kann, indem man sie erkennt.
Zitat von William Shakespeare:
An sich ist nichts weder gut noch böse. Das Denken macht es erst dazu.
► Hier geht es zur CD
► Hier finden Sie die MP3-Version und die HÖRPROBE
---
Neue 432 Hertz-Musik - Aus unserer Kategorie "Das lebendige Wort"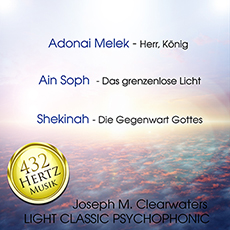 ► Adonai Melek - 432 Hertz
Adonai, der höchste "Herr" jeglicher Manifestation des höheren Licht Bewusstseins wird schon von David in den Psalmen verwendet.
Adonai Melek ist der König der Schöpfung - die Macht der Barmherzigkeit über alle Kräfte des Universums.

Adonai Melek ist eine liebevolle, leitende und zugleich ehrfurchtsgebietende Gegenwart, das das innere Erwachen der Seele in die wunderbaren Welten des Universums führt und von der Musik getragen wird.
Die dynamische Musik mit Chören und Panflöten entspricht der Energie des Adonai Melek und - man hört es - lässt uns die Macht, die in der Musik steckt, spüren.


► Ain Soph - Das grenzenlose Licht / Urlicht - 432 Hertz

In dieser kraftvollen, dynamischen Musik erfährt man das Hervorgehen (Emanation) aus dem Ursprung der Schöpfung durch die Lichtspektren, welche ausgesandt werden, um die Geheimnisse und Mysterien der himmlischen Hirarchie zu erfahren.
Mit lichtvollen Voices und friedlichen Chören wird Ain Soph in die Schöpfung gebracht.

Ain Soph (hebr.) ist in der kabbalistischen Mystik das undefinierbare und unbestimmte grenzenlose Urlicht. Am Anfang war also alles von dem verborgenen Wesen Gottes, dem grenzenlosen Urlicht erfüllt. Es entstand ein leerer Raum, in den das Urlicht als Schöpfungsblitz hineinstrahlte und die geschaffene Welt hervorbrachte.


► Shekinah - Die Göttliche Gegenwart - 432 Hertz

Die Gegenwart Gottes (ebenfalls im ICH BIN symbolisiert) wird hier durch dynamische, kräftige Musik mit Chören umgesetzt, welche die Heilung in molekularer Form des inneren Universums (schwere Bassstreicher) durch den "heiligen Geist" ermöglicht.
Ein harmonisches Streicherfinale läutert die seelische Sehnsucht und erschafft Erfüllung.

Das hebräische Wort Shekinah (Schechina) bedeutet "Gegenwart Gottes" und wurde von jüdischen Gelehrten verwendet.


► Hier geht es zur CD
► Hier finden Sie die MP3 - Titel und HÖRPROBEN
---
► Partnerwerbung
Die Textakrobatin - Lektorat, Texte & Grafiken


Holen Sie das Beste aus Ihrem Projekt und Ihrem Produkt heraus - nutzen Sie die Macht des Wortes!

Worte und Wörter sind mächtig!
Eine falsche Verwendung kann unliebsame Assoziationen freisetzen - die korrekte Anwendung und Formulierung kann bares Geld, viel Aufwand und Zeit sparen!

Über die Macht des Wortes


♦ Lektorat
♦ Texte
(Werbetexte, Produktbeschreibungen, Newsletter, Artikel etc.)
♦ Grafiken
♦ Über die Macht des Wortes
♦ Über die Textakrobatin















Fordern Sie ein kostenloses Probelektorat an, holen Sie ein unverbindliches Angebot ein oder stellen Sie Ihre Fragen! Die Textakrobatin ist gerne für Sie und Ihr Projekt oder Produkt da!
---
Zu Ihrer Kenntnisnahme:

► Unsere neue Datenschutzrichtlinien:
Seit dem 25.05.2018 gilt das neue Datenschutzgesetz, das Sie hier nachlesen können!

---
♦ Ich kann mich nicht anmelden, kann keine Bestellung aufgeben oder meine Daten ändern ♦

Ist Ihnen das passiert? Kein Problem! Wir sind für Sie da!












Unser neuer Shop besteht seit dem Herbst 2017.
Viele Kunden haben seitdem Fragen zu den neuen Anwendungen.

Speziell dafür gibt es die "Hilfe-Seite", auf der die Funktionen der Musik-Apotheke.com erklärt sind.



Falls Sie als schon länger bestehender Kunde nicht mehr in Ihr Konto einloggen können, so bitten wir Sie, sich einfach ganz neu anzumelden!
Aus technischen Gründen kommt es vielfach vor, dass sich einige unserer Kunden, die schon seit vielen Jahren bei uns ein Konto besitzen, nicht mehr anmelden können. Die Ursache liegt im Wechsel unseres neuen Web-Shops und der Änderung der technischen Einstellungen.

Haben Sie dennoch Fragen oder Probleme, schreiben Sie uns! Wir sind Ihnen gerne behilflich!


► Technische Fragen: service@musik-apotheke.com
► Fragen zur Musik, zu Lizenzen oder für Wiederverkäufer der CDs: petra.meier@musik-apotheke.com
---
Die Musik-Apotheke auf
Google+ | Pinterest | YouTube | Twitter | Facebook - besuchen Sie uns.

Bücher und Bilder von Melanie und Petra Meier.
Wir freuen uns auf Sie!
---
Hinweis: © Texte (wenn nicht anders vermerkt): Petra & Melanie Meier. Weiterverwertung, auch in Auszügen, nur mit schriftlicher Genehmigung erlaubt!
Bildquellennachweise - Impressum

---
Wir wünschen Ihnen viel Freude mit den Produkten unserer Musik-Apotheke!
Über die Musik/ der Komponist ♦ Über die LCP-Methode ♦ Neue Produkte ♦ Angebote ♦ Hilfe